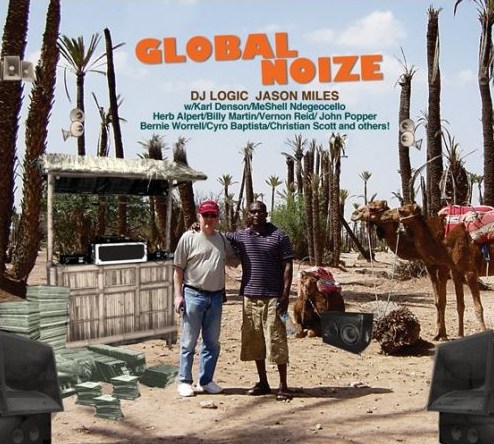 Free Download "A Jam for Joe (Live)"
Global Noize Myspace
Buy on
itunes
Amazon

When we re-started this blog a few months ago, we decided we wanted a new name that would convey a broad feeling of a diverse, world-wide music scene and would not pigeon hole us as merely a Six Degrees sales tool. "Global Noize" is a phrase that we have been using for a while in our mailings to our club DJ list and I thought it perfectly captured the vibe that we were looking for with the blog. Unfortunately, after we had hit the blogosphere, readers started mentioning a band that shared our new name. A quick Google search (which I guess I should have done earlier...duh!) took me to Global Noize's
Myspace page
. Here was a band that featured many players that I have long respected, who were fusing music traditions from around the world with jazz, hip-hop and electronica. Just the kind of project we might release here on Six Degrees.
I figured the best thing to do was to immediately come clean to the group and hope that they felt as I did, that there was little chance of there being any confusion between a touring band a music blog. I was definitely hoping that all us Global Noizers could co-exist together in harmony. Sure enough, I quickly got a response from band leaders Jason Miles and DJ Logic who were spectacularly cool about the whole thing and who have given us their blessing to keep the name.
So now we want to return the favor by bringing this very cool group to your attention and by offering an exclusive live version of their track "A Jam 4 Joe". I think you'll agree that these guys are whipping up some serious "global noize" worth sharing. Definitely check them out live when they come to your town as well- as you can hear from track, you're sure to catch some serious jams.
Bio:
The signs are everywhere: MTV launches a channel on the Arabian Television Network. African hip-hop groups mix the postures and style of American rappers with homegrown lyrical messages and M.I.A., a Sri Lankan refugee now living in Brooklyn, scores one of the year's most critically acclaimed albums--sound bites recorded around the world mixed in an electronica blender with hip hop beats. Multi-tasking cell phones, cheap lap tops, Kindle Ebooks, YouTube, internet radio, and of course the multifaceted internet itself, have engendered a cultural interchange of unprecedented scope and speed. Music, which resonates across every cultural barrier, leads the charge. The result is a grand "global noise," a spectacular sea of interchanging and mutating beats, sounds and melodies from all directions. It is precisely that reality that Jason Miles and DJ Logic set out to capture with their collaboration Global Noize. Keyboard extraordinaire Jason Miles, who has worked with everyone from Miles Davis and Luther Vandross to Ivan Lins, and Turntable guru DJ Logic, who has collaborated with diverse artists like Phish, Vernon Reid, ?uestlove and Don Byron, join forces on Global Noize to create a thrilling mix of free-wheeling tracks that take listeners on a wide-ranging journey through the minds of some of creative music's most innovative musicians such as Meshell Ndegeocello, Billy Martin (Medeski, Marin & Wood) , Vernon Reid (Living Color), John Popper (Blues Traveler) Cyro Baptista (Herbie Hancock), Bernie Worrell (Talking Heads, Parliament Funk), Karl Densen (Tiny Universe, Lenny Kravtiz).
"This is a special project as the world is a Global Noize and we need to come together in difficult times and great music has the power to do this," states Grammy Award-winning and Emmy nominated keyboardist, producer and composer Jason Miles. "The artists and musicians on the project represent a great diversity and this is what the world is really about. The beauty in this diversity is something that we all need to appreciate."
Global Noize is a project that has long been brewing in Jason Miles' mind but the idea was solidified when he got a call from friend his DJ Logic last year to join him for a performance at the Blue Note in NY. "On that day I had a horrible root canal and was mourning the loss of a close relative. I thought that this could be just the tonic I needed to pick myself up," recalls Miles. The night was exactly what Miles had hoped and from this experience he knew that he and Logic had a special connection. The duo later worked together in Morocco at The Casablanca Jazz Festival and had the opportunity to venture off to Marrakech. Miles shares, "We went through life-altering experiences. It was so new to us -- mysterious, crazy and another view of the world. We both knew we had to make this project happen. The picture on the CD over of the both of us with the camel in the desert says it all!"
Global Noize, which DJ Logic describes as "a hip and eclectic musical journey crossing all boundaries," further delights with such tracks as "Dar'abesque" (named after the villa Miles and Logic inhabited in Marrakech) featuring trumpet icon Herb Albert. "When I got the track back from Herb Alpert," confides Jason Miles, "I knew that any musician who had imagination and a great musical voice would love to be a part of this. Herb just really brought the track to life. "Bollyhood" is an ear catching trip-hoppy track showcasing the haunting vocals of Falu and "Planetery Beat" joins multi-instrumentalist Karl Denson and guitarist Dean Brown together for a soul jazz romp with killer break-beats and groovin' horn riffs. "Having Karl Denson involved with this album made us happy because we knew there would be great playing, brilliant horn arrangements as well as fantastic compositions all at the same time." Christian Scott is showcased on "Exotic Thoughts," an ethereal meandering piece featuring the young hot trumpeter along with guitarist Carl Burnett and Tabla player Suphala while "Pool of Honey" is as sweet as its title with its uptempo swinging melody and feel good vibe featuring Burnett and Suphala once again along with Karl Denson on flute. "Christian Scott is one of the most exciting young artists on the scene," states Miles. "He really stepped up and showed what a young cat at the beginning of his career has got going on." "Spin Cycle," brings back a 70s funk flavor with its insatiable drum licks from Gene Lake and "What I Know" features spoken word artists Aline Racine.
Jason Miles concludes "When I hear music I love I want to be involved with it. It would be boring for me to stay in one place musically so I love to explore different music. I know Miles Davis felt that way and I'm just trying to keep the grooves hot, the melodies great and collaborate with the best artists I know. Hopefully Logic and I will be bringing Global Noize to the world and show people our musical vision."